we exist to make medications more affordable for the people who need them
Medications play a vital role in people's lives. They can be lifesaving and life changing. Many Americans struggle with the cost of prescription drugs. At Navitus, this is personal to us.
As a result, we:
Do not mark up drug prices

Do not keep any portion of manufacturer rebates

Believe customers own their data

At Navitus, we approach pharmacy benefits differently. In our experience, when you provide employer plan sponsors and health plans full visibility, they can make better decisions. This helps members afford the medications they need to live their lives more fully.

This year's report highlights our ability to keep costs well-managed and ensure that people get the care they need.

I invite you to explore the results that Navitus delivered with our client partners.
Brent Eberle
Chief Pharmacy Officer, Navitus Health Solutions
2.6%
Average Net Total Cost¹ Trend for Commercial Clients
49% OF NAVITUS' COMMERCIAL CLIENTS HAD A NEGATIVE COST TREND
This was achieved by:
Improved pharmacy network rates and increased rebates

Appropriate formulary and utilization management
1Net total cost paid by plans and members minus manufacturer rebates
$89.73
Net Total Cost Per Member Per Month (PMPM) for Commercial Clients
net total COST PMPM
Specialty medications accounted for more than 50% of total spend, despite only representing ~1% of overall utilization.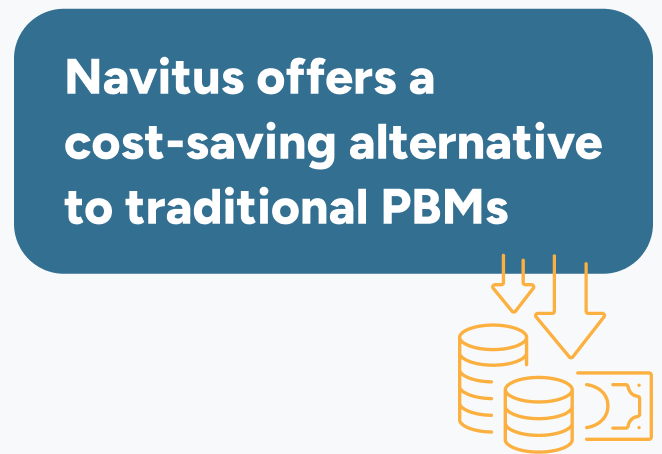 download the 2022 DRUG TREND EXECUTIVE SUMMARY
METHODOLOGY
The Navitus drug trend is calculated by comparing the net total cost PMPM for 2022 to that for 2021. Net cost PMPM represents full-year (Q1-Q4) data for total member copays and plan paid amounts minus manufacturer rebates and fees. This value is divided by the total number of members and by 12 months of the year.

Net total cost PMPM trend consists of two components: utilization and cost and includes both specialty and non-specialty drugs. Utilization trend measures the change in total days of therapy. Cost trend measures the change in net total drug cost per the above. This analysis included data for more than 500 clients, representing 2.2M members within Navitus' commercial book of business, including plan sponsors and health plans. To be included, these organizations must have been clients of Navitus in both 2021 and 2022. Exclusions from this analysis include products administered at physicians' offices, clinics and hospitals, COVID-19 vaccines and supplies and any additional savings from copay assistance programs.